New Policy Changes
On weekdays from 5:00 - 7:30 pm, all tables not being used by coaches will be "open play" tables. These tables are open to all players and no multi-ball training is allowed.
Starting April 1, 2013, the drop-in fee will be $10, including weekends.
2013 Summer Camp
It is time to register for SPTTC's popular summer camp which runs from June 24 to Aug 30, 2013. Details are available here.
Upcoming Pacific Northwest Tournaments
2013 Rose City Open - Beaverton, OR - June 8-9, 2013 2013 Spokane Ultimate Open - Liberty Lake, WA - Oct 12-13, 2013
SPTTC Special Training Package
April 15 - June 23, 2013
Option 1:
2 hours of private lessons and one group lesson per week.
Option 2:
3 hours of private lessons and one group lesson per week.
Group lessons will be held on Sundays from 3:30 to 6:00 PM

There is a 15% discount when entire 10 week package is prepaid in full. Coaching fees vary with coaches. Group lesson fee is $45.
No refunds given for any missed lessons whether individual or group. If an individual lesson is missed with a 24 hour notice, it may be made up the following week.
We welcome weekly or monthly students but discounts apply only to prepaid, full packages.
SPTTC Players Have Strong Showing at 2012 Nationals
Several SPTTC players performed beyond expectations at the 2012 Nationals tournament in Las Vegas, Nevada.
Billy Ding reached the men's open semi-finals! On his way, he beat the top rated player and other players of much higher rank. View some pictures here.
Lucy Ma achieved 3rd place in the Cadet Girls Singles event.
Reda Ali advanced to the top 12 in the Cadet Girls Singles event.
Congratulations to our young players and their recent achievements!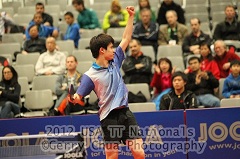 Butterfly Sponsored Coach
Congratulations to coach Liang for being selected by Butterfly as an official sponsored coach!
Northwest Asian Weekly 30th Anniversary Celebration
The Northwest Asian Weekly celebrated its 30th anniversary on Friday, Oct. 5 at the Seattle Sheraton Hotel's Grand Ballroom. There were about 650 participants, including many famous politicians and dignitaries. Coach Judy, Victor Wu and other club members represented SPTTC.
Amazing shows were performed by members of local communities. In addition, guests bid on their table centerpieces and participated in a live auction with all proceeds going toward charities. The live auction raised more than $3,000 for the IDEC, with our Seattle Pacific Table Tennis Club raising $2,000 of that through a donation of a table and top-level coaching.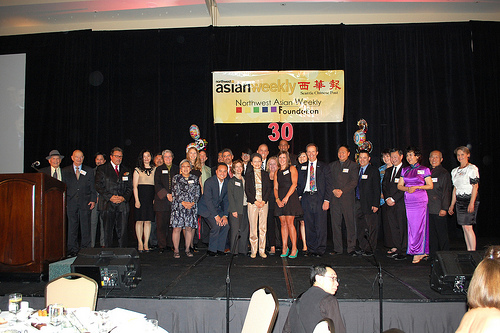 More photos of the event can be viewed here.
Hours
Mon: 2:30pm - 9:30pm
Tue: 2:30pm - 9:30pm
Wed: 2:30pm - 9:30pm
Thu: 2:30pm - 9:30pm
Fri: 2:30pm - 10:00pm
Sat: 10:00am - 10:00pm
Sun: 10:00am - 6:00pm
Rules
Please visit our rules page to become acquainted with our general policies and open play rules.
Rates
Drop-in: $10*
Monthly Membership: $50 adult, $30 junior
Private Lessons:
Coach Judy - $55/hr (members), $60/hr (non-members)
Coach Liang - $50/hr (members), $55/hr (non-members)
Assistant Coaches - $45/hr (members), $50/hr (non-members)
Please contact coach Judy to inquire about private lessons at 206-802-5473.
* Your first drop-in visit is free if accompanied by a member.
Address
13407 NE 20th St, Suite 5
Bellevue, WA 98005
Contact
Please call 425-644-7833 or for further questions.