2013 - 2014 Winter Break Camps
Dates: 12/23/2013 - 12/24/2013 12/26/2013 - 12/27/2013 12/30/2013 - 12/31/2013 01/02/2014 - 01/03/2014
Cost: $60/day
Daily Schedule

| | Table Tennis |
| --- | --- |
| 9:00 am | Check-in* |
| 9:30 - 10:15 am | Table tennis training |
| 10:15 - 10:30 am | break |
| 10:30 - 11:30 am | Table tennis training |
| 11:30 - noon | Table tennis technical analysis |
| 12:30 - 1:30 pm | Lunch ** |
| 1:30 - 2:15 pm | Table tennis training |
| 2:15 - 2:30 pm | Break |
| 2:30 - 3:30 pm | Tournament games |
| 3:30 - 3:45 pm | Game analysis |
| 4:00pm | Check-out |
| 4:00 - 6:00 pm | After hours care *** |
* If student takes Chess/TT class, chess bus will pick up @ 11:30 and lunch will be at Chess 4 Life
** If student takes BIC/TT class, parents will drop kids at BIC in the morning.
*** Extra $5 charge for after hours care.
After School Program
SPTTC is again offering an after school program during the 2013-2014 academic year.
Our after school program includes one full hour of group table tennis lessons each day. Other healthy and relaxed recreational activities will also be provided.
Special quiet rooms are available for rest and homework. Music practice rooms are also available, by appointment.
Fees: $450/month or $30/day Students who register for 3 straight months can attend the winter, mid-winter, or spring break camp (table tennis only) for no additional charge.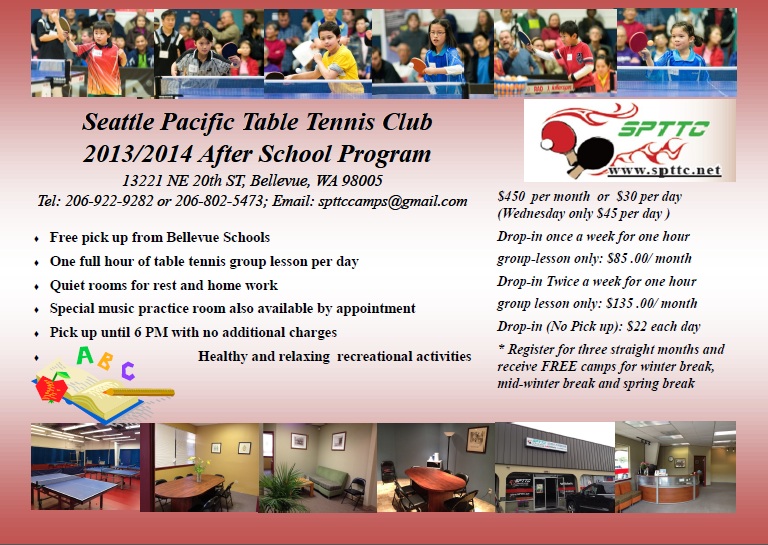 View some photos of our very successful 2011 Winter Camp here. As you can see, much fun was had by all!