New Facility
Our new facility is now open! It features 16 Butterfly Centrefold tables and new flooring, occupying 9600 square feet of space. The location is just a few hundred feet west of the former main building. (It is in between the two former buildings.) Please note that 24 hour access for annual members is temporarily halted until renovations are completed.
Please see our Facility page for more details and directions.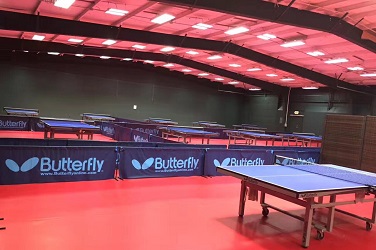 Club Rules Update
The same two players may not play on the same table for more than 30 minutes at a time. After 30 minutes of play, one or both players must leave the table and allow someone else to take their place. You are then able to use any other table when it becomes available. If you wish to play more than 30 minutes with the same player, please check with the SPTTC staff.
No coaching is allowed at SPTTC other than through official staff coaches. Anyone who is not an official SPTTC coach should use their own facilities for coaching. Violating this rule can result in your membership being terminated.
2017 Spring and Summer Break Camps
Sign up now for the 2017 Spring and Summer Break Camps. The schedule and fees can be found on our Camps page.
Upcoming Pacific Northwest Tournaments
2017 Washington State Senior Games - Tacoma, WA - Jul 21 - 22, 2017
2016 - 2017 After School Program
Please view our flyer for details on the 2016-2017 after school program. Online registration is available at the Camps page.
King 5 News Features SPTTC
King 5 News visited SPTTC before the 2016 Olympic Games table tennis finals to learn more about the sport of table tennis. Watch the report below which includes interviews with some of our younger players and training demonstrations by our professional coaches.
League Play Every Saturday Evening
SPTTC offers league play every Saturday night from 5:20pm - 9pm. Please visit our League page for details.
Fees: Members: $5, Non-Member Juniors: $7, Non-Member: $10
Hours
Mon: 2:00pm - 9:30pm
Tue: 2:00pm - 9:30pm
Wed: 2:00pm - 9:30pm
Thu: 2:00pm - 9:30pm
Fri: 2:00pm - 10:00pm
Sat: 10:00am - 9:00pm
Sun: 10:00am - 6:00pm
Rules
Please visit our rules page to become acquainted with our general policies and open play rules.
Rates
Drop-in: $12 (or pay $50 up front for five visits)
Drop-in Special: $9 Saturdays from 10am - 12 noon
Monthly Membership: Visit Membership page for more info
Private Lessons:
Coach Judy - $65/hr (members), $75/hr (non-members)
Assistant Coaches - $50/hr (members), $60/hr (non-members)
An additional $5 drop-in fee will be charged for non-members who wish to play after their lesson.
Please contact coach Judy to inquire about private lessons at 206-802-5473.
Address
13251 NE 20th St
Bellevue, WA 98005
Contact
Please call 425-644-7833, 206-922-9282 or for further questions.